Crawl Space Vapor Barrier Installation in Greater Jacksonville
Keep your crawl space dry and mold-free with CleanSpace®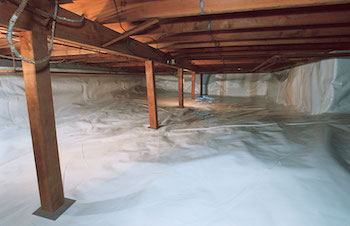 A vapor barrier in a crawl space helps control moisture and protect against mold.
If you have a dirt crawl space under your home and you're experiencing a musty smell, feeling of dampness, or cold floors inside your home, you could benefit from adding a vapor barrier in your crawl space. Sunshine Foundation Repair installs the patented CleanSpace® vapor barrier to stop crawl space moisture problems. CleanSpace® comes with a 25-year warranty against rips and tears.
For a free cost estimate on installing a crawl space vapor barrier, contact us today to schedule your on-site consultation in Greater Jacksonville.
Features of the CleanSpace® Liner:
Heavy 20-mil-thick liner - Similar to a swimming pool liner
Manufactured in 7 layers - Combination of high-density polyethylene for puncture resistance, low-density polyethylene for flexibility, and polyester cord for reinforcement for brute tear resistance
White finish brightens the crawl space and makes it easy to see that the crawl space is free of mold, insects, and dirt
"UltraFresh" antimicrobial additive prevents mold from growing on the liner
How a Crawl Space Moisture Barrier Works
A vapor barrier does exactly what its name says: it provides a barrier against water vapor. When warm air comes in contact with a cool surface, condensation forms. When this happens inside the crawl space, the moisture can lead to mold growth, cause wood beams to rot, and attract pests.
A vapor barrier slows or prevents ground water seepage from evaporating into the crawl space air. For a crawl space to stay dry, it's also important to make sure there's proper drainage and keep gutters and downspouts clear of debris.
Our Crawl Space Vapor Barrier Installation Process
Wood and organic materials are removed.
Rocks are removed and uneven surfaces are leveled (depending on condition).
The CleanSpace® liner is carefully fitted and installed on the crawl space floor and walls.
Drilled-in fasteners and spikes are installed to permanently hold the liner in place.
Edges, seams, and pipe penetrations are sealed.
Why protect your home with full crawl space encapsulation?
The CleanSpace® vapor barrier is part of our complete crawl space encapsulation system. The crawl space liner should be combined with our other crawl space products to effectively control water, moisture, outside air infiltration, and heat loss.
Free cost estimates on CleanSpace® vapor barrier installation
Sunshine Foundation Repair is the authorized CleanSpace® installer in Jacksonville, Saint Augustine, Middleburg and surrounding areas in Florida. During your on-site consultation, we'll recommend the best crawl space moisture control strategy for your home. Contact us today to request a free cost estimate on your crawl space vapor barrier installation project.
Looking for a price? Get a no cost, no obligation free estimate.