Crawl Space Jack Post Installation in Jacksonville, FL
We make it easy to repair sagging floors over the crawl space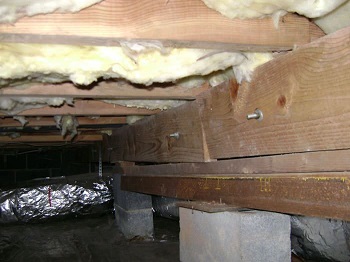 A beam begins to bend. When floor joists weaken and bend, the floor above your crawl space will be uneven and bouncy.
Your crawl space is an essential part of your home's structural support. Crawl spaces bear the weight of rooms above and are connected to the foundation, which is why damage in the crawl space can have a significant impact your home.
Many crawl spaces have inadequate support, are decaying due to mold and water issues, or are sinking because of soil settlement. When one or more of these issues happens in your home, you will notice sagging floors above the crawl space that could eventually break down if not repaired.
At Sunshine Foundation Repair, we specialize in crawl space repair of all types. If you're experiencing a structural problem with your crawl space, we have a solution for you. Call us today at 1-888-546-5886 or contact us online to learn more! We offer free estimates in Jacksonville, Saint Augustine, Middleburg and surrounding areas.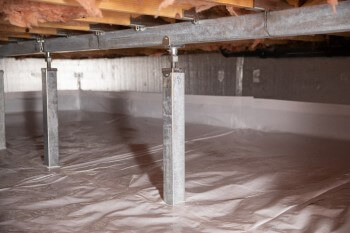 Strong, straight & adjustable. SmartJack® supports solve sagging floor problems in crawl spaces by stabilizing & leveling sagging beams.
The SmartJack® crawl space support system
When joists in the crawl space begin to sag because of age, mold, or pest damage, the floors above them will sag as well. This leads to uneven or "bouncy" floors in the living space, which are unpleasant for you and your family to deal with and damage your home's value.
The SmartJack® from Sunshine Foundation Repair is the solution to these problems. SmartJack® crawl space support posts provide an effective, durable solution for leveling and stabilizing damaged crawl spaces. Unlike concrete blocks that will only sink further into the ground, the SmartJack® provides a permanent solution.
This crawl space support system is made with strong, corrosion-resistant, galvanized steel. This ensures that it won't develop rust or be damaged by pests. SmartJack® posts are installed on sturdy base that prevents further settlement. Most importantly, they are easily adjustable should you ever need to change their height. SmartJacks™ are completely compatible with our crawl space encapsulation system.
SmartJack® Specifications
Fast, Year-Round Installation -- The SmartJack® can be installed year-round, with installations completing in about a day. There's no waiting time for concrete to cure!
Stronger Crawl Space Support -- Our crawl space support system can support vertical loads exceeding 60,000 pounds, which is far stronger than conventional concrete repairs.
Versatile Installation -- The SmartJack®'s portable size allows it to be installed in even the tightest of crawl spaces.
Superior Support -- Our support jacks do more than merely halt the downward movement of your floor. The SmartJack® may also be adjusted to try to lift the floor above to its original position.
The SmartJack® system can't be beat
Wondering how the SmartJack® stacks up against other crawl space structural repair options? The table below highlights the reasons the SmartJack® is the best choice for your home.
Crawl Space Joist Support Solutions

Additional Shimming

Concrete Masonry Unit (CMU) Columns

Light-Duty Jack Posts

The SmartJack® Crawl Space Jack System

Provides a solution for floor joist bracing that is spaced too far apart to provide proper support

Can be combined with a moisture barrier system to repair sagging floor joists and girders that are damaged by rot and mold

Are appropriate for installation in areas where the soils cannot support heavy loads, and would normally cause joist supports to sink

Can be installed without "overlifting" the foundation, which is known to cause additional structural damage

Adjustments can be easily and reliably made, should the joist brace settle into the soil

Installs in the home within a day

The girder jacks and joist jacks provide a high load-bearing capacity for structural support
Contact us for a free estimate on crawl space structural repairs
Worried about the structural integrity of your crawl space? Look no further than the professionals at Sunshine Foundation Repair. As your local crawl space repair experts, we can evaluate your home and install durable SmartJacks™ to ensure your home has stable, level floors.
Call us today at 1-888-546-5886 or contact us online to learn more about how we can repair all your crawl space problems. We offer free estimates on all our work in Jacksonville, Saint Augustine, Middleburg, Saint Johns, Ponte Vedra Beach, Fleming Island, Jacksonville Beach, Yulee, Atlantic Beach, Fernandina Beach and throughout the surrounding areas.
Looking for a price? Get a no cost, no obligation free estimate.