About the CleanSpace® Crawl Space Repair Network
The world's largest network of crawl space moisture control and structural repair experts, serving the United States and Canada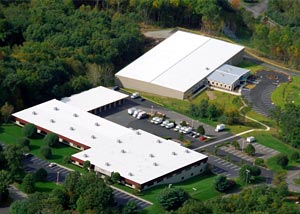 Aerial view of the Basement Systems and Cleanspace International Headquarters -- a 92,000 square foot facility located in Seymour, CT.
The CleanSpace® Crawl Space Contractor Network is a division of Basement Systems, Inc. -- the largest network of basement and crawl space contractors worldwide. Basement Systems was founded in 1987, and consists of a network of more than 300 dealerships.
The CleanSpace® division has been in operation since 2001, and serves in nearly every part of the United States and Canada. CleanSpace® dealers are local, independently owned and operated companies that are united under the common goal of creating drier, healthier, and more energy efficient crawl spaces. We are not a franchise!
Each CleanSpace® dealer works with the network cooperatively, sharing knowledge, experiences, and best practices with one another. We also employ a full-time Research and Development Department tasked with keeping us on the cutting edge.
Sunshine Foundation Repair is the local CleanSpace® Dealer in Jacksonville, Saint Augustine, Middleburg, and the surrounding areas in Florida. Call us today at 1-888-546-5886 or contact us online to get a free estimate on crawl space repair and encapsulation for your home.
Contractors You Can Count On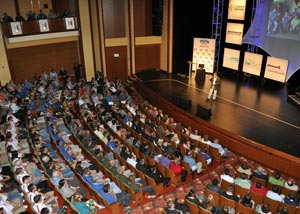 Each year, Basement Systems hosts an Annual Convention, which is a week-long gathering that includes trainings, product unveilings, and dealer awards.
Not just anyone can become a member of our network! We carefully hand-pick our dealerships from well-established, accomplished companies that are stable and reputable within their local area. Our dealers are experts in the industry, specializing in crawl space repair and moisture control as a core function of their business. These are specialists who work exclusively in crawl spaces every day!
The Better Business Bureau has recognized us several times for our accomplishments. Among others, Basement Systems has been awarded the BBB Marketplace Ethics Award multiple times, the BBB Consumer Education Award multiple times, and the BBB Quality Award.
Dealer Support & Training
As members of the CleanSpace® Network, dealers also benefit from year-round training sessions provided at the headquarters, free of charge. These trainings focus on every aspect of the business, including customer service, sales, installation, system maintenance, and much more.
Dealers also take our in-house Certification Testing upon the completion of each training. Along with our full-time Research And Development Department and Training Team, the headquarters also maintains a fully staffed Dealer Support Department.
This is a team of highly qualified industry experts, who are standing by every day to provide expert advice on unique challenges that our dealers face as they work in crawl spaces all over North America.
More Than 50 Exclusive Crawl Space Products
No matter what you need for your crawl space, we have a product that's custom-designed just for you! We've been awarded more than 30 patents for our innovative products, and have won more than 40 quality and innovation awards!
These products have been successfully used to meet the needs of homeowners with crawl spaces in hundreds of thousands of homes worldwide, including repairs and upgrades for crawl spaces.
Our crawl space products serve the following needs for homeowners:
Humidity Control & Crawl Space Sealing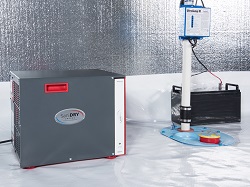 If you have a vented crawl space that's moldy, musty, and showing signs of wood rot, then you know better than most that crawl space vents simply do not work.
The CleanSpace® Network has the alternative! Our experts have designed a complete crawl space system -- one that includes a crawl space liner and energy-efficient dehumidifier system.
We can install a complete system in your home quickly -- with a typical installation being completed in less than a day. Once installed, your crawl space will be drier, healthier, and more energy efficient than ever before!
Our crawl space liner is made with seven layers of tough, durable material that's designed to withstand traffic from the homeowner and workers -- with a 25-year written, transferable warranty!
Crawl Space Waterproofing Solutions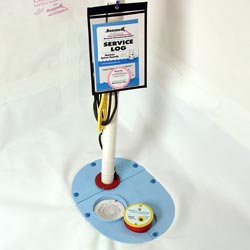 Flooding in a crawl space can lead to a variety of issues, including mold, moisture, and ruined fiberglass insulation. Before the crawl space can be dried or upgrades are made to the space, it's extremely important that all sources of standing water are addressed.
Your local CleanSpace® dealer has access to a variety of drainage and water removal solutions for your crawl space, including sump pump systems, drain systems, drainage matting, and our custom-designed crawl space perimeter drain system.
If your crawl space floods due to a plumbing failure, a homeowner can go weeks, months, or even years before the leak is discovered. Our system includes a water alarm system, so you know right away.
Crawl Space Insulation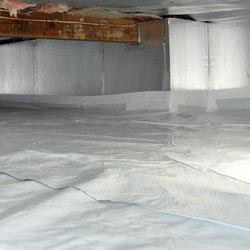 Fiberglass insulation installed between the floor joists in a crawl space is notorious for becoming weighed down with humidity and moisture. As it does, it will sag downwards, eventually falling uselessly to the ground.
CleanSpace® Dealers have exclusive access to our SilverGlo™ Crawl Space Insulation System -- an innovative, waterproof insulation and radiant heat barrier.
When installed on your crawl space walls, SilverGlo™ doubles as a vapor barrier, protecting your crawl space from moisture and humidity from the walls.
For your crawl space floor, we recommend the TerraBlock™ Crawl Space Floor Insulation & Vapor Barrier System -- which is rugged enough to withstand foot traffic without damage!
Structural Repair For Sagging Crawl Spaces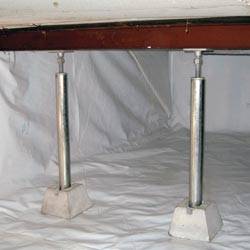 Crawl spaces can experience structural damage for many reasons, the main reasons being the following:
Your crawl space has too few structural supports.
The structural supports are sinking into the soil.
The structural wood in the crawl space is rotting.
Structural damage in a crawl space can manifest itself in the home in many ways, including uneven floors, jamming doors, and cracks in the drywall.
Common solutions for crawl space structural repair are often ineffective -- and can even lead to further structural damage as they're installed.
Our award-winning SmartJack® Crawl Space Support System provides a permanent, warrantied solution!
Free Crawl Space Repair & Upgrade Estimates

Each member of the CleanSpace® Network provides homeowners in their service area with free written quotes for all repairs and upgrades for their crawl space.
Each quote includes a professional, on-site inspection and measurement of your crawl space. We'll answer any questions you have, and map out your crawl space using our innovative crawl space software program. Your specialist will take you shopping through our products, making recommendations on which options would work best for your scenario.
As an added courtesy, your local dealer will also mail along a full-color copy of our crawl space book: Crawl Space Science. This provides you with a powerful research tool -- one that is filled with photos and information about crawl spaces, as well as details about our products and services.
Don't wait to create a healthier, more valuable home! Contact us today!
Looking for a price? Get a no cost, no obligation free estimate.